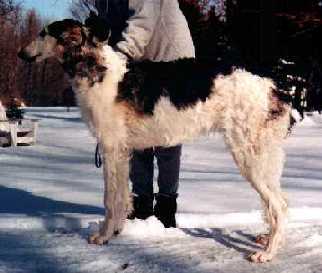 Bogart is picture here at 7 months old. Bogey was living with co-owner Laura Hyatt of Meyta Borzoi (owner and breeder of Radi, Bogart's sire) when his life was cut short in a tragic accident at the age of 9 months. We still miss his clownish, loving personality and will never know if the early indications of his potential would have been fulfilled.
One day old! 3 weeks old
4 weeks old
8 weeks old 14 weeks old
Click on thumbnails for a larger view!